Run!
RUN! AIDS WALK NEW YORK
Take advantage of our

run route for 2019 – 5 miles through beautiful Central Park.
Medals will be awarded all runners who cross the finish line!
Interested in running the Walk this year? Follow these steps:

REGISTER TO RUN!


To

register as a runner, select "Runner" in Step 3 of the registration process.
Already registered as a Walker? Call us or email awnyinfo@aidswalk.net to switch your registration to Runner!
THERE IS A $250 FUNDRAISING MINIMUM TO RUN.
You can easily fundraise online – customize your fundraising web page, then reach out to your network. Check out the special new incentives being offered exclusively to our runners!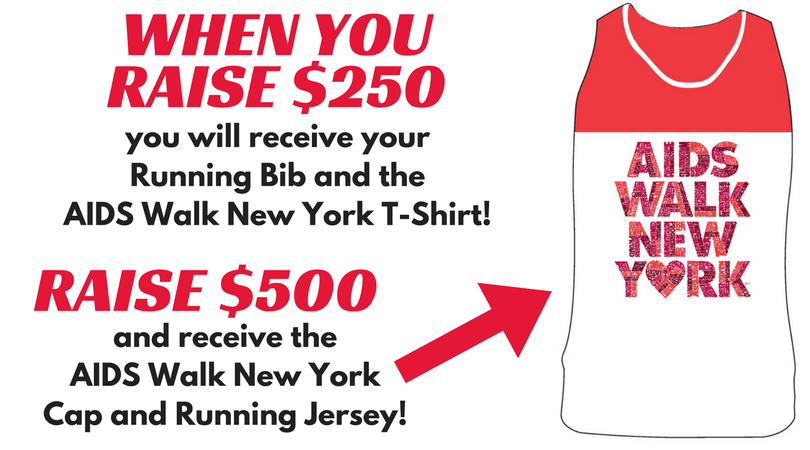 In addition,
all qualified runners will earn admission for one
to our
Post-Walk Show
at Central Park's Rumsey Playfield!
Raise $300 or more and get admission for two*!
*Available only to the first 2,500 participants to qualify.
FREQUENTLY ASKED QUESTIONS
How do I register for RUN! AIDS Walk New York?
Fill out this form. You will be guided through the registration process. Select "Runner" during Step 3.

Once your registration is complete, you will receive a confirmation email from awnyinfo@aidswalk.net. If you register by phone, mail, or fax and provide us with an email address, you will receive the same email with a temporary password if you have not selected one for yourself. Log in

so you can update your profile information and personalize your page.

You can review a copy of our RUN! AIDS Walk New York -- Release, Waiver of Liability and Indemnity Agreement

here

.

What if I am already registered as a walker?
Call our office at 212.807.WALK or email awnyinfo@aidswalk.net to switch your registration to "Runner"!

Is there a fee to run?
There is a fundraising minimum of $250 to run.

Is there an age requirement to run?
No, all ages are welcome. Runners under the age of 18 require the signature of a guardian.

Is there an ability requirement to run?
No, all abilities are welcome.

Is this a timed race?


Yes.



How long is the route for RUN! AIDS Walk New York?
The route is 5-miles.

Where is the RUN! AIDS Walk New York start line?
The run begins in Central Park on 72nd Street and East Drive.

What is the route?
Runners will head north along East Drive to 110th Street, loop around Frederick Douglass Circle to West Drive, and then head south along West Drive to 68th Street (North of Tavern on the Green).

Will there be snacks and water provided along the route?
Yes! There will be two fluid stations along the route, as well as snacks and refreshments at the start and finish.

Can runners check bags?
Yes. Runner bag check will be located at the entrance to the Naumberg Bandshell on the 72nd Street Transverse in Central Park and will be open from 8:00 a.m. to 9:30 a.m. If you wish to check a bag, please allow additional time for security. Clear drawstring bags will be available.
Runners can pick up their bags on West Drive, north of Tavern on the Green in Central Park between 10:45 a.m. and 12:00 p.m.

Runners must have a running bib in order to check a bag.
Runners must submit bag check tag when checking a bag.
One bag per participant, please.
Runners must submit their bib when picking up a checked bag.